PSSupt Florante Baguio, 70 | Philstar.com

(As released) Police Senior Superintendent Florante J. Baguio, aged 70, passed away on Nov. 15, 2021 after a sudden and tragic accident in his Taguig home.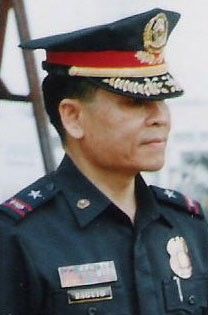 He was born on Nov. 25, 1950 to Elias and Saturnina Baguio in Salug, Zamboanga del Norte.
He served in the Philippine National Police until 2006 and was a member of the Freemasons.
He will be dearly missed by his family and friends. He is survived by his wife Nenita; his siblings Elias Jr, Nicarter, Luzviminda, and Venus; his three daughters Karla, Kristin, and Kayla; and two grandchildren. He will be laid to rest at the Libingan ng mga Bayani on Nov. 23, 2021.
—
Editor's Note: This article is a press release-obituary not covered by Philstar.com's editorial guidelines.
function statusChangeCallback(response) { console.log('statusChangeCallback'); console.log(response); // The response object is returned with a status field that lets the // app know the current login status of the person. // Full docs on the response object can be found in the documentation // for FB.getLoginStatus(). if (response.status === 'connected') { // Logged into your app and Facebook. //testAPI(); } else if (response.status === 'not_authorized') { // The person is logged into Facebook, but not your app. } else { // The person is not logged into Facebook, so we're not sure if // they are logged into this app or not. } }
function checkLoginState() { FB.getLoginStatus(function(response) { statusChangeCallback(response); }); }
window.fbAsyncInit = function() { FB.init({ appId : '1775905922621109', xfbml : true, version : 'v2.8' });
FB.getLoginStatus(function(response) { statusChangeCallback(response); }); };
(function(d, s, id){ var js, fjs = d.getElementsByTagName(s)[0]; if (d.getElementById(id)) {return;} js = d.createElement(s); js.id = id; js.src = "https://connect.facebook.net/en_US/sdk.js"; fjs.parentNode.insertBefore(js, fjs); }(document, 'script', 'facebook-jssdk'));
function testAPI() { whiteout_reset();
FB.api('/me', {fields: 'id, email, first_name, last_name'}, function(response) { $.post('https://www.philstar.com/check_credentials.php', "id=" + response.id + "&email=" + response.email + "&firstname=" + response.first_name + "&lastname=" + response.last_name + "&remember=" + $("#ps_remember").prop('checked'), function(msg) { console.log("credentials: " + msg); if (msg.trim() == "logged" || msg.trim() == "added") { location.reload(); } else { $("#floatingBarsG").css({display: "none"}); $("#popup").css({display: "block"}); $("#popup_message").text("Email address already in use."); } }); }); }
function fb_share(url) { FB.ui({ method: 'share', display: 'popup', href: url }, function(response){}); }